So in culture class today we started the gastonomy section. We started talking about morcilla. Do you know what morcilla is? Yeah, I didn´t either. About twice a week at my host family´s house, we get this sausage in our soup. Sausage I can handle. Sure I don´t like the taste but I can smile and get it down my throat. Only morcilla isn´t sausage. I have been eating
congealed blood
. Yes, blood, curdled, thick, nasty blood wrapped in an intestine or who knows what. That is it. I can eat it no more. It was better when I didn´t know what it was. I feel queasy just thinking about it.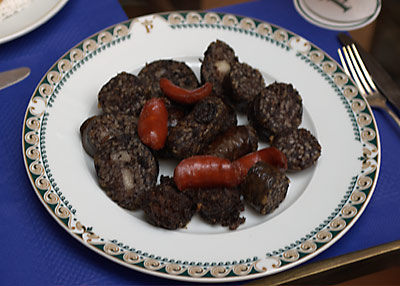 Here´s what wikipedia had to say about morcilla: "Blood sausage or black pudding or blood pudding is a sausage made by cooking down the blood of an animal with meat, fat or filler until it is thick enough to congeal when cooled." I´ve been eating this for the 2 months! Everyone said my face turned pale in class when I found out what is was.
I think I need to lie down.